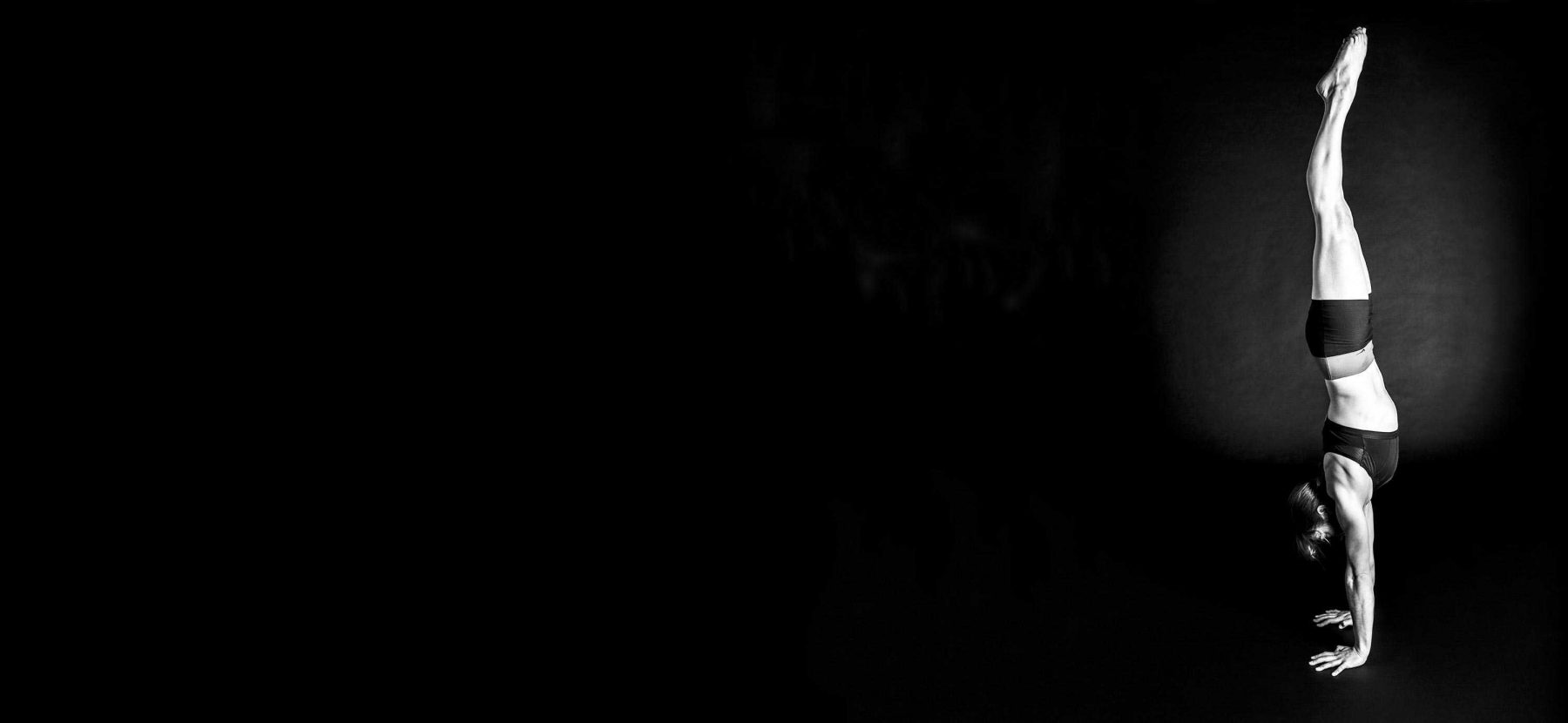 April 2020 Group is now SOLD OUT!
Next group starts September 2020
Price $500 US for 12 weeks of programming and 8 weeks of coaching and lifetime access to the course
Sign up to be notified for the next course
Designed for beginner and intermediate hand balancers
There is something very satisfying and empowering about learning to balance upside down. There are so many components that make up this skill that people often get stuck and need help to get to the next level.
I created this course for beginner and intermediate hand balancers who need help building the strength and control to master the freestanding handstand. Along the way, I will watch your progress and make adjustments as necessary to ensure the best possible progress.
"I was surprised at how much progress I could gain with online training: I'm used to in-person coaching so wasn't sure how it would go, but it was spectacular"
Lisa Avramenko
Handstand Course 2017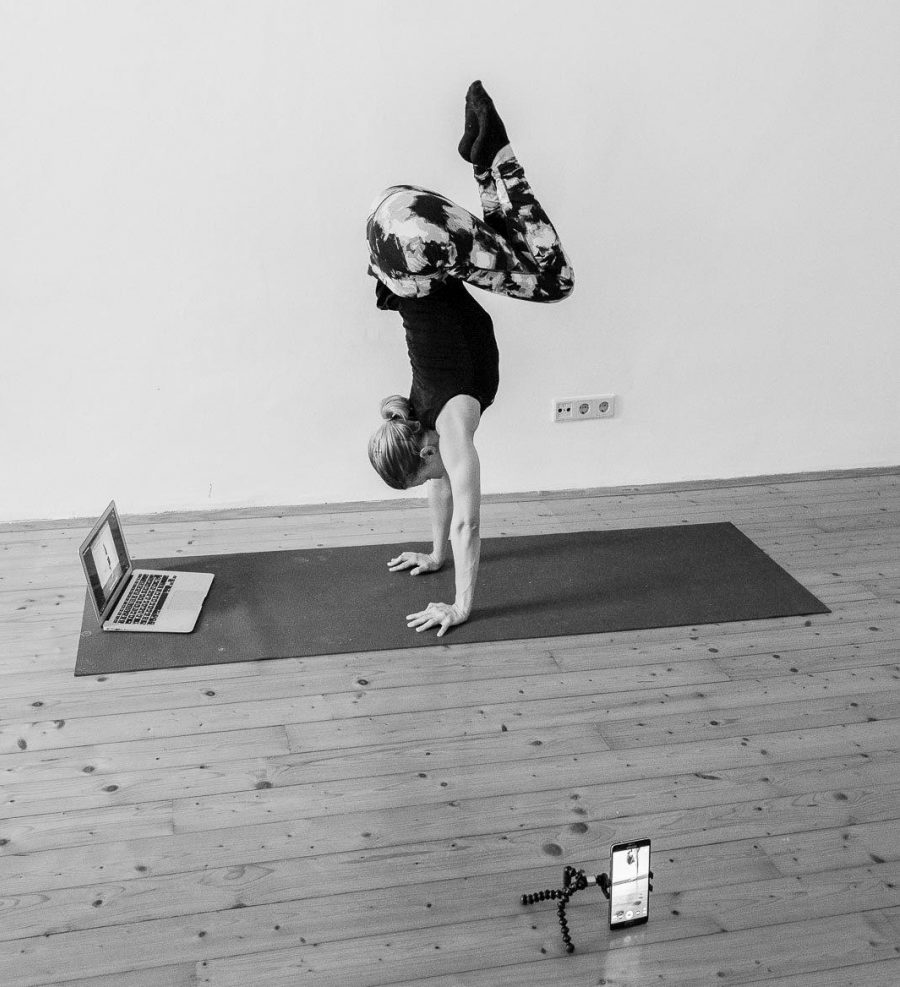 Course structure
8 Weeks of coaching, 3 modules including NEW bonus module
The online course, contained within an easy-to-use interface, is comprised of 3 modules. The first two modules cover everything that you need for a freestanding handstand. The NEW Bonus module is almost another program in itself. Once you have mastered the handstand this module will help you refine your skills and take them to the next level. It contains detailed step by step tutorials for different handstand entries and shapes. It also introduces the Press to handstand and handstand push-up
Each module contains weekly programming and instructional videos that you will have lifetime access to.

Module 1
Strength, mobility & body positioning

Module 2
Strength, control & balance
Module 3: Bonus Module
Exploring your handstand: shapes, entries, introduction to the press to handstand and handstand push-up

Bonus programs
I have also included bonus flexibility programs for shoulders and hamstrings.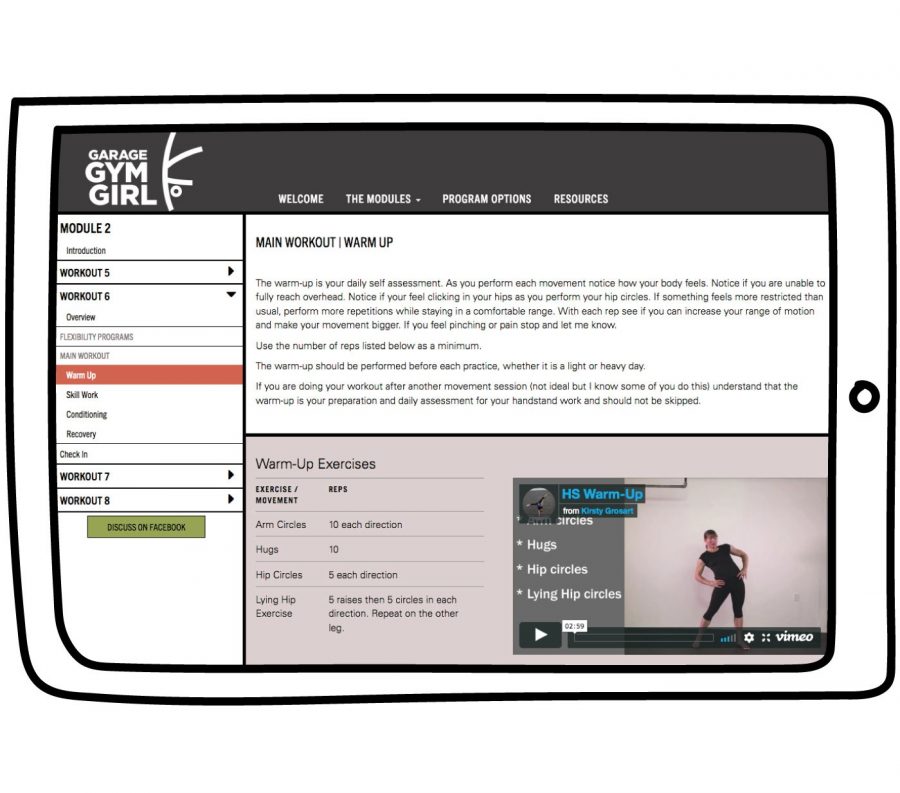 What is included in the course?
Programming & Personalisation
There's no guesswork needed on your part. The program includes individual assessments which will highlight what YOU need to address. I'll tell you exactly what you need to do, or NOT to do, to help you finally achieve your goal.
Tutorials
Clear and detailed video tutorials describing each drill and progression.
Coaching
Personal feedback from me on your individual progress.
Community
Private Facebook group where you can share your progress and offer encouragement to others.
Lifetime online access
You will have lifetime access to the online course, including any updates or enhancements that come in the future.
Bonus
I have included bonus routines for the biggest limitations for handstands: wrist, overhead and hamstring mobility.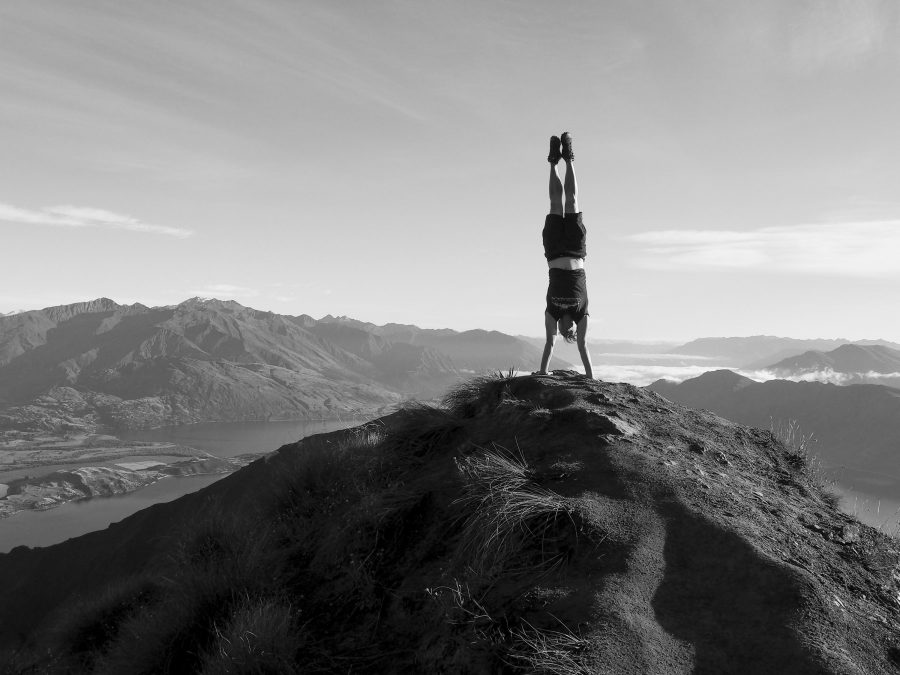 Your handstand coach: Kirsty Grosart
In my youth, I was national gymnastics champion and a competitive coach in Scotland. An injury ended my career as a gymnast. But, in my thirties, I re-discovered the joy of handbalancing and bodyweight fitness in my garage.

Over the past 5 years I have coached hundreds of adults on how to balance on their hands. I learned early on that teaching handstands to adults is not the same as teaching kids. Through my hands-on experience with students of all ages and experiences, I developed my handstand course and teaching approach. I have learned from some of the best teachers in the industry but I have learned the most from my students and their journeys to the freestanding handstand.
Read more: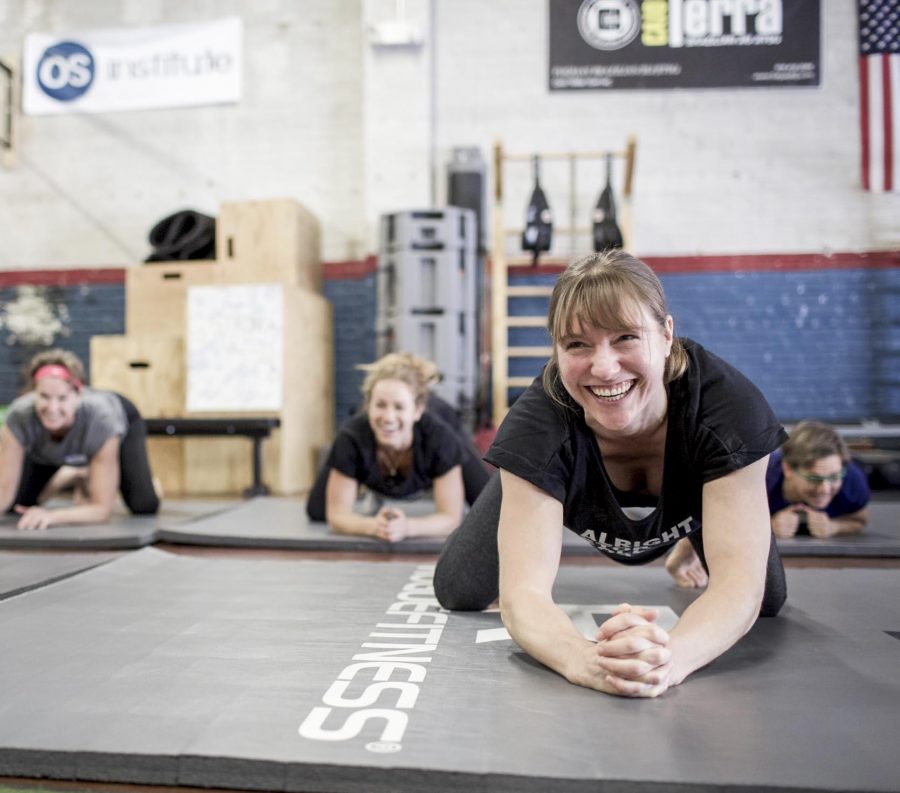 Advantages of the Garage Gym Girl online handstand course
Weekly feedback and coaching of student videos included.
Accountability: I stay with you through the 8 week journey.
Workout and progress tracking through the course.
All of my handstand courses have been beta-tested and optimized with a large spectrum of students and improvements/additions are ongoing.
I teach students/classes in person as well as online, so I know what works — and what doesn't — in practice.
Compared to the costs of a personal trainer, the outlay is very reasonable. Plus, you have fun and support from other students from around the world!
FAQ
IS THE PRICE US OR CANADIAN DOLLARS?
The cost is in US dollars.
I'M A COMPLETE BEGINNER (OR I CAN ALREADY HOLD A ONE MINUTE HANDSTAND) IS THIS COURSE FOR ME?
This course is designed for beginner and intermediate hand-balancers.

If you have never trained handstands before, I cover all the basic progressions to get you upside down.
If you can already perform a handstand at the wall, I will help you move to a freestanding handstand.
If you are struggling to balance away from the wall, I will help you get the strength and control that you need.
If you can already hold a one minute handstand then this course is not for you. Email me at kirsty@garagegymgirl.com if you are interested in taking your handstands to the next level.
WHAT FORMAT IS THE MATERIAL PRESENTED IN?
The material is all available online in a private website - the Garage Gym Girl Online Academy - so you will have access to all the instructional videos and programming at any time.
You will also be able to download a pdf of the workouts for the week.
You will have lifetime access to this, including updates and changes.
I AM IN A DIFFERENT TIME ZONE- HOW WILL THE COACHING WORK?
For the coaching, you will share videos in a private Facebook group and I will give you feedback so the time difference is not a big deal.
Occasionally I may do live Q&A but if it doesn't work for you, everything will be available to view after and you can post questions in advance.
WHAT IS THE TIME COMMITMENT EACH WEEK?
I will provide one option to train 3 days a week and another option to train 5 days a week.
The first couple of weeks the program will take 30-45 minutes and after that it will be more like 30-60 minutes (depending on the day).
Do I need special equipment to take part?
No special equipment is required.
While not essential it is very beneficial if you have access to a foam roller.
Access to a wall and sufficient space that you feel comfortable kicking up to handstand.
A device to time yourself.
A device to film yourself, with a tripod if possible. For all my videos I use my iphone and a basic iphone tripod (prior to getting a tripod I used to balance my phone on boxes and often ended up with a video of the floor). This is the tripod that I use.
Facebook account for our coaching group.
Internet access. You can download a pdf of each workout, but the rest of the content requires access to the internet.
Garage Gym Girl Online Academy
As part of the Garage Gym Girl Handstand training group, you'll gain access to my Online Academy.
How does learning online work?
Through a specially designed interface, featuring video tutorials and detailed instructions, you will follow modules 1 and 2 over 8 weeks.
Workouts are also available to download in .pdf, and we will interact via a private Facebook group.

Lifetime access
You'll have lifetime access to the online course - including any future updates.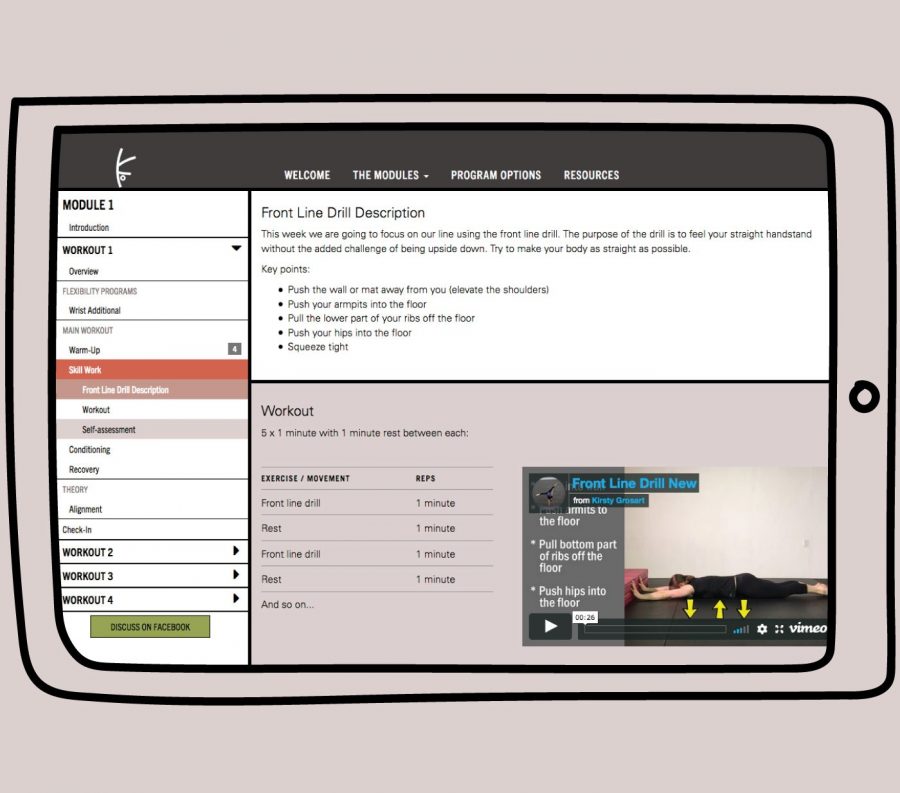 In the words of my students...
"Whether you want to achieve your first handstand or improve an existing one, this course will get you there. The program is progressive and allows you to go at a pace that fits for you, but you might be surprised at how much progress you can make in such a short time."
Shari Wagner
Handstand Course 2016
April 2020 Group is now SOLD OUT!
Next group starts September 2020
Price $500 US for 12 weeks of programming and 8 weeks of coaching and lifetime access to the course
Sign up to be notified for the next course